Hello and Happy Wednesday!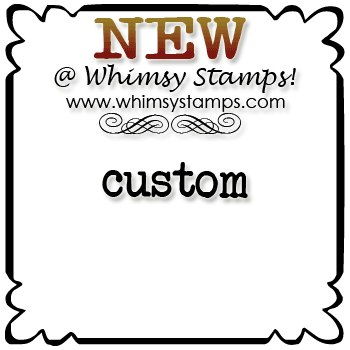 Today is the day...the new custom rubber stamp designs at
Whimsy Stamps
are now available to order! Ann Vento of Raindrop Echo Designs has created a wide selection of styles to choose from and each can be customized with a font of your choice along with custom lines of your personal information. These stamps are perfect for "signing" your artwork, "branding" your designs, or even addressing your envelopes!
To see the complete selection, please visit the shop and click on the
Custom Rubber Stamps
link on the sidebar. We also have a Questions and Answers page all about this new product offering and how the whole process works!
This is the stamp I ordered for myself....
This is style Frame 3 with my font selection of Emily (which applies to the name portion only) and then the custom lines include my name and blog address. This particular style has 4 lines of custom text available. I choose to leave the sample as is with the "100% handmade by" and "created with love" lines and then changed my name and blog information to personalize the stamp.
Each of these stamps is made from deep etched gray rubber and the stamp itself is created using a laser machine to etch the design into the rubber. Production takes about 1 week and then we will ship your stamp to you. We are estimating about 7 to 10 business days for delivery here in the USA or slightly longer for International destinations. Hop on over to the
Custom Rubber Stamp
section today and check out all the options available to you!
Happy Stamping,