Good Morning and Happy Friday!
I have to tell you that I am very happy today is Friday! Yesterday was a VERY long day. It was a teacher workshop/no school day and let's just say it wasn't the most fun day I've had in a while! I was thrilled to have both kids home, but for some reason they just couldn't get out of each others way or get along at ALL! So, we are back to normal today and hopefully will have a better day. Plus, what's not to love about the weekend starting in a few hours!
Today I have two cards to share with you. First is for Just Magnolia. This week we would like to see you use some hearts and flowers with your Magnolia image to create a project for the challenge. I hope you will join in with us!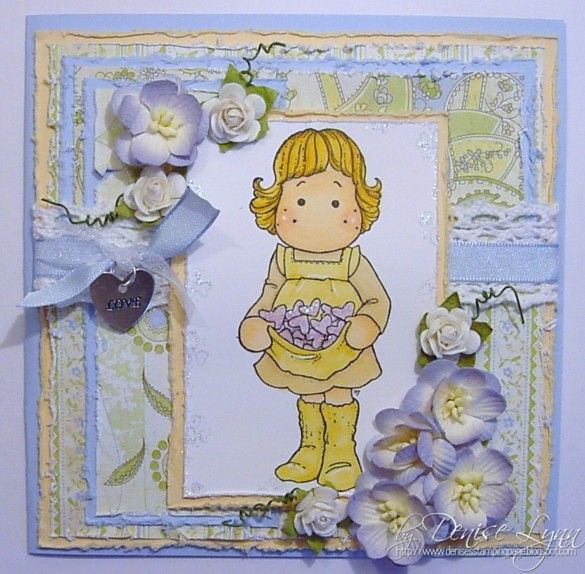 I've gone with a soft pastel color palette on this card. I took all my inspiration from these gorgeous cherry blossom flowers, which Bev was sweet enough to share. Now I will be buying myself some! You can get them at
Wild Orchid Crafts
which also happens to be the sponsor for the JM challenge this week! My papers are BaiscGrey Lily Kate and some card stock in yellow and blue. The sketch is from the challenge at
Roses on Paper
, although I altered the circle to a rectangle to fit my image.
I've embellished this card with distressed edges, flowers and roses, lace and ribbon, stickles and a heart charm. My image also has some hearts to fit in with our challenge. This card also fits the challenges at:
A Spoon Full of Sugar
: Free Style
My Time to Craft
: Elegant Rose
Cute Daisy May:
Vintage
Cute Card Thursday
: Blooming Gorgeous
Next I have my Stamp Something card. This week our challenge was set by out DT member Vicki and she wants to see you use your food images and embellies or papers to create a delightfully delicious something. Unfortunately, Vicki is having some major computer problems so she hasn't been able to post her card! I hope that things will get better for her soon!
For my card, I started with Francesca from Kraftin' Kimmie Stamps. I think she fits the delicious challenge perfectly with those yummy cupcakes! I also used some DCWV Sweet paper with cupcakes on it. The layout is from
ICS #51
.
I embellished with flowers and roses and some corner punched paper, ribbon, and a charm. I also fit this card to the challenge of "a bow with polka dots and pink" at
The Pink Elephant
.
Thanks for dropping on by today. Please stop by
Just Magnolia
and
Stamp Something
and check out the challenge samples from my fellow designers, great inspiration to be had there! Hope you have a great weekend! Happy stamping!