This blog candy is now closed! Thank you to all who participated...the winner will be announced shortly!
Good Morning!
Hope
every one's
weekend is off to a great start! It's about 40 degrees here today and it feels like a heat wave! Pathetic, I know...but it's been frigid here for weeks, so I'll take 40 any day although 70 or 80 would be much better! Hope it's nice where ever you are too!
I have some fun for you today! Since the holidays I've been reorganizing and cleaning up my
craft room
/work space. My hubby also repainted and moved all the furniture around for me to create a nicer place to work and create everyday. Which was a HUGE job, so I am grateful to him for doing that for me! This is the first time I've had a real place of my own to work in that functions well and doesn't require me to clean up after every project.
Now, I thought it might be fun for all of us to share our work/craft spaces! I'm always inspired by all the beautiful things you all create, so I'd love to see where it is that you do your magic! So whether big or small, grand or plain, please share with us the place that you create your masterpieces in!
While I was cleaning and reorganizing, I also put together a fun little blog candy pack of goodies! It's nice to purge myself of things I don't use in the hopes that I can share them with someone else who will.
Here's a picture of the prize....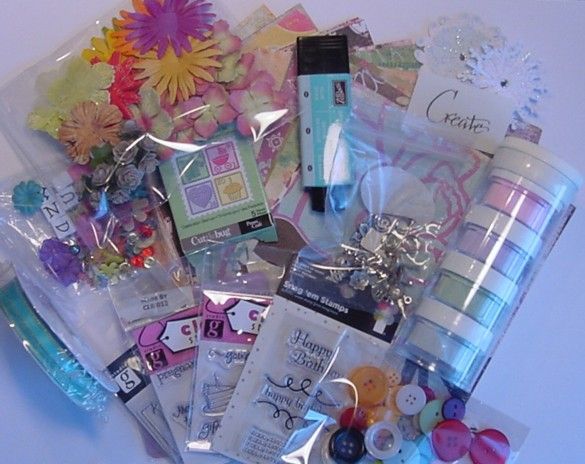 This goody pack includes:
*an assortment of 6 x 6 My Minds Eye papers
an assortment of

Prima

flowers and roses

*an assortment of buttons, brads, dew drops, wooden letters, paper flowers, gems, beads, and pins
*an assortment of charms and spacers

*a

Stampin

' Up! Embossing Stack

*a

Stampin

' Up! glue stick

*a pack of

Cuttlebug

Embossing/Die Set
s

*Ribbon, some snowflake dies cuts, and a rub-on
*5 clear stamp sets including a "hand made by" set
This blog candy chance is open to anyone from anywhere! To enter for a chance to win this blog candy prize, please link your name and blog in the Mr.
Linky
below
AND
post my candy chance on your blog to help me spread the word! This prize chance will be open from now until noon EST on Saturday, January 23rd!
Everyone who enters and links my candy on their blog will be given one chance at the prize, but for an extra chance, take a picture of your craft space and post it on your blog to share with us!
Here is where I work and create....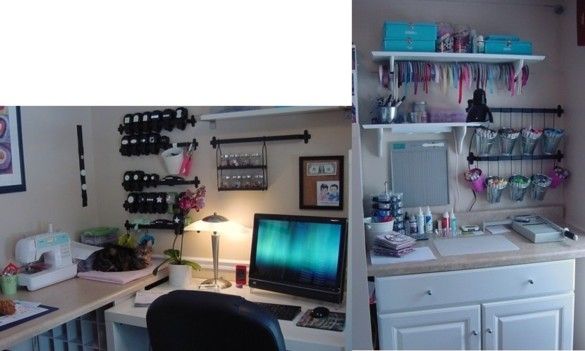 I actually cleaned up for this picture. Normally it's quite messy, especially in my crafty area. And if you'll notice, I have a friend who likes to sit or should I say sleep with my while I work! The other side of the room is our kids playroom...now that was a mess when I took the picture, so I won't be sharing that!
Looking forward to seeing your crafty spaces! I do hope you will share! Good luck to everyone who enters the candy chance. I will announce the winner on Saturday afternoon next weekend. Have a great week!
Happy stamping! :)