Good Morning and Happy Wednesday!
This week is just flying on by! My son started school on Tuesday so we are slowing getting back into the routine of things! Have your kids gone back now too? Hoping that everyone is enjoying the back to school rush. I know I am looking forward to the long holiday weekend!
NEW DIGI STAMPS!!!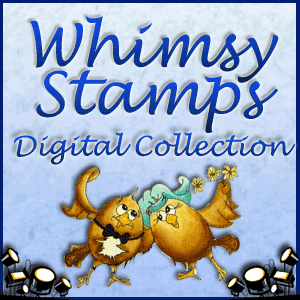 Today is new release day at
Whimsy Stamps
. We are releasing more new digital images! Crissy has created 2 gorgeous butterflies for her
digital collection
and Katie also created a new whimsical girl digital image and we released some of her previous rubber stamps into her
digital collection
. The design team will be hosting a blog hop with prizes and a new monthly challenge beginning at Noon EST today. For all the information and to play along, please visit the
Whimsy Inspirations Blog
!
We have more fun Whimsy news to share today too. Many of you know that Ann Vento, our artist Raindrop Echo Designs, has been creating custom watermarks and signatures for our
Custom Digital Collection
. These designs are perfect for watermarking photos and using to sign off on your blog posts.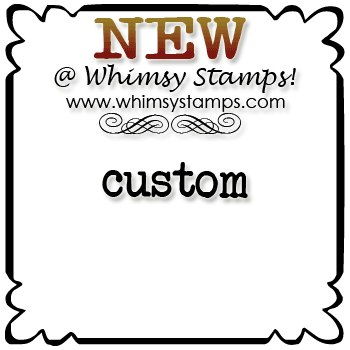 Well, now we are going to be taking Ann's talents one step further and it is with great pleasure that I can tell you Whimsy Stamps will soon be selling
Custom RUBBER Stamps
! We will have a wide selection of designs to choose from, including clean and simple designs, fun and whimsical designs, and beautifully elegant ones too. You can use these stamps to sign your creations, create business cards, customize your designs, and even label your envelopes with our selection of custom address stamps! Ann's new Custom Rubber Collection will release on September 8th!
I have a card to share too, using Crissy's new image
Daisy Butterfly
. These new butterflies are so beautiful and unique too. I really enjoyed coloring this one and even had some daisy flowers to match!
I colored with Copics in purples and greens with a touch of yellow to match the daisy flowers and papers. The papers are SU! and have been stitched on the edges with a sewing machine. I've embellished with pearls, brads, ribbon, and the flowers.
This card fits the challenges at:
Whimsy Stamps monthly challenge: Pretty Pearls
Sunday's with Crissy
: favorite time of year (summer)
Cupcake Craft
: lets get digital
Stamp with Fun
: sketch layout (flipped it)
We hope you will stop by the shop and check out all the fun happenings and hop along with our new release hop and maybe even join in the challenge too! New digital stamps now, soon to have custom rubber designs, and....our Holiday Rubber Stamp Release later in the month! Stay tuned!!
Have a great day!
Happy Stamping,