Hello All!
Hope your week is off to a good start. We are all sick at our house, but making the most of it! Taking naps and watching a lot of TV!
I have a card to share that I made for my last guest design spot with
SPCC
. This week our color combo is:
And here's my take on this challenge...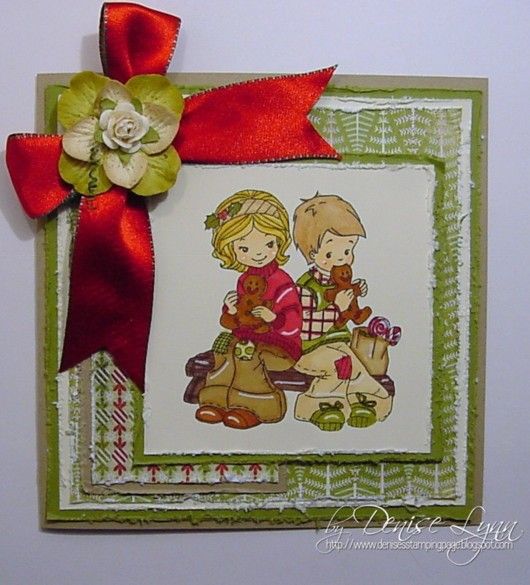 I've started with this sweet Belles and Whistles image which
Erin
kindly shared with me! She actually gave me the stamp! Thank you Erin, I love it! I've colored the image with Copics and highlighted with a white gel pen.
I used a simple sketch so that the image would be the focal point. The papers are BasicGrey Eskimo Kisses with some green, cream, and kraft colored card stock. I distressed the edges of the papers, you know how much I like to do that! And I embellished with a big piece of satin ribbon and some Prima flowers.
Before I leave you today, I wanted to share some news about the "Holiday Card Contest" at
Whimsy Stamps
! We want to see you create a holiday themed card using a Whimsy Stamps image and you could win some great prizes and a chance to be published in our newsletter and in our Inspirations Gallery! Check out the Whimsy home page for information about deadlines and details!
Thanks for dropping by today! Hope you have a great Monday. I'm off to schedule some posts for the rest of the week just in case I start feeling worse! If I don't come by to visit, you'll understand why. Have a great day, happy stamping! :)