Hi All!
Hope your week is off to a great start! We had a really good weekend and I took a break from work, so now I'm playing catch up. I did find some time to squeeze in a bit of stamping today though. It's been days and days since I created anything so it was much needed stamping therapy!
I started out with an image that
Erin
shared with me from the new Belles n' Whistles collection. I just love the sweetness of this image. I knew I wanted to make a Valentine card with it, but I went with a non-traditional color combo.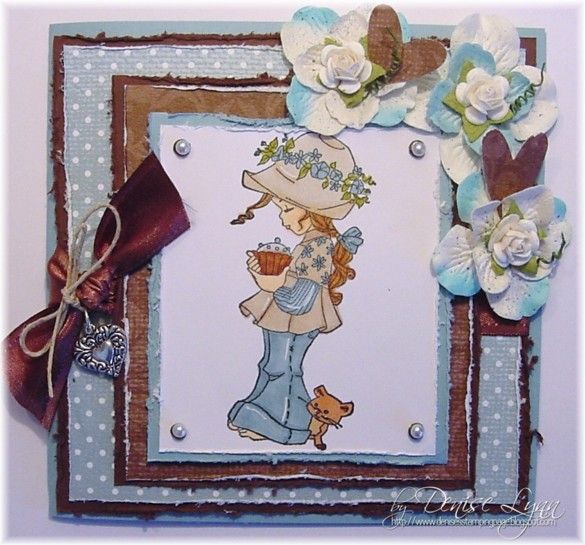 I started with the sketch from
Papertake Weekly
, but not I'm not sure it resembles the sketch all that much! Got to love when that happens. I used some retired Stampin' Up! papers in Bayou and Chocolate and distressed the edges for a tattered look. I embellished with lots of flowers and roses, some brads and sticky pearls, a piece of satin ribbon, and a heart charm attached with hemp twine. I'm very excited to say that Whimsy Stamps is now carrying an assortment of charms in our
online shop
! This heart within a heart is available to purchase in a set of 4 with 2 different sizes.
This card also fits the challenges at:
The Pink Elephant
: Valentines
Everybody Art Challenge
: Valentines
Stamp with Fun
: Hearts
Creative Card Crew
: Valentines
Thanks for dropping by today! Hope you have a fabulous Tuesday! Happy stamping! :)