Happy Thursday All!
Another week almost over already. Time sure flies when you're having fun! We've been enjoying our school break and mini vacation here at home. We've been getting some not so nice weather, which has been keeping us indoors, but we're making the best of it. And really, can't complain when you can sleep in every morning and no one needs to get ready for work or school!
I've been a doing a fair amount of crafting this week too, which has been really nice. Today I have a card for the
Sugar Bowl
challenge using an older stamp for the main image. I got this one from my friend
Deb
a while ago and have only used her a few times.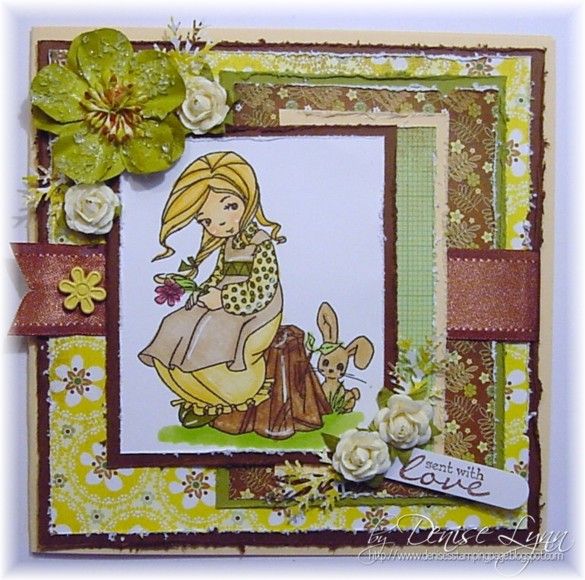 The papers are BG Origins with some chocolate, olive, and banana card stock. Funny how they are all colors that name a food! Hmmmm, maybe I was hungry when creating this one! LOL! I've used the sketch from the Sugar Bowl challenge, but forgot about the please add extra part to the challenge, so I don't have all those other elements. Oops! I've embellished with Prima flowers and roses, my branch punch, a flower button, ribbon, and a sentiment from the Oval Snippets Set available at
Whimsy Stamps
.
Thanks for popping on over today. I'll be back tomorrow with my cards for the new Just Magnolia and Stamp Something challenges, hope to see you then! Happy stamping! :)