Good Morning,
Hope you're having a good day today. I've got my son off to school and my daughter watching a movie so I'm hoping to get some chores done and then get some crafting in. I need to finish up my Christmas cards and get them in the mail.
Before I get to that though, I do have a project to share with you that I created for some
Paper Maniac DT
work and a challenge. I had an old wooden frame, something that I got at the dollar store or IKEA and thought it would make for a fun altered holiday gift.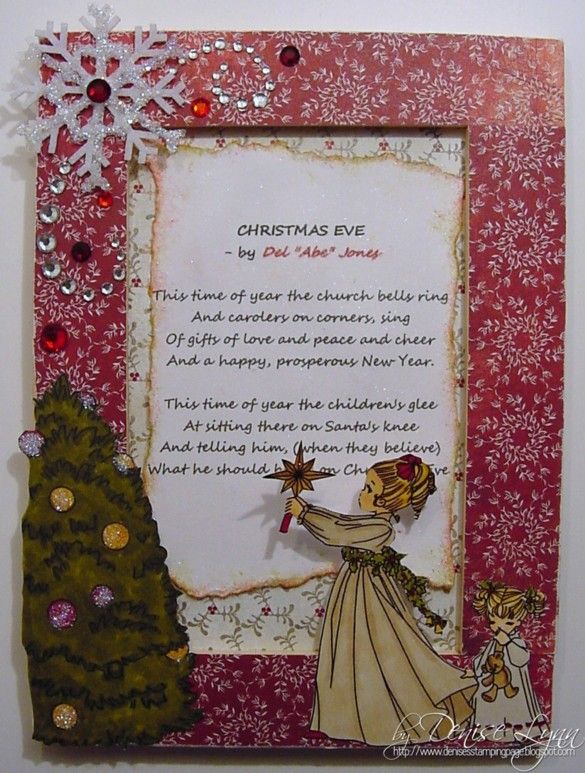 For the frame, I used some
BasicGrey Wassail holiday papers
, mainly scraps actually. I glued them to the frame with adhesive tape and then softened the edges with a sanding block. I embellished the frame with sticky gems and a felt snowflake and an acetate and glitter snowflake that I made using a punch. To make the snowflake, just punch out some acetate snowflakes with a snowflake punch or die and then cover with glue and glitter. Let it dry, spray it with glimmer mist for more sparkle and viola...pretty snowflake!
I am loving these sweet
Belles 'n Whistles
stamps and my friend
Erin
was kind enough to share some images with me. And since they are mostly holiday themed, I'm using them up before it's too late. I've colored both the Christmas tree and these sweet little girls with Copics and highlighted with a
Spica glitter pen
. I cut them out and then glued them to my altered frame.
I decided to frame a Christmas poem rather than a photo, but you could frame anything you wanted. I copied this poem from the web and printed it on card stock and then distressed the edges and sprayed the paper with glimmer mist. I think it makes for a cute holiday gift or I may just keep it as a decoration. This altered frame also fits the challenge at
Roses on Paper
!
Thanks for dropping by today. Don't forget to pay my fellow Whimsy designers a visit today and enter into today's
Advent candy
draw! I'll give you a hint...be sure to visit
Sharon
!
Happy stamping!