Happy Friday All!
Hope you are having a great day so far...only a few more hours and the weekend will be here! I have loads of holiday shopping left to do, so I know what I'll be doing this weekend. LOL! Hope you have some fun stuff planned.
Today I have two cards to share, one for
Just Magnolia
and the other for
Stamp Something
. Luckily, our challenges this week fit into my Christmas card list planning so I was able to get two more done and added to the pile! I think I'm just about done now too. It will be nice to cross that off the to-do list.
First, my Just Magnolia card. This week our challenge is very easy...just make a Christmas card using a Magnolia image and you can enter! Easy Peasy!
I've gone with a non-traditional color combination for this card and used some BasicGrey Eskimo Kisses papers with SU! razzleberry, white, and pink card stock. I embossed the white layer with the snowflake folder and CB. I've embellished with Prima flowers, rhinestone gems, acetate/glitter snowflakes, pink pearls, ribbon, and a snowflake charm.
This card also fits the challenge at:
The Pink Elephant
: Favorite Christmas Color Combo
Next, I have my Stamp Something card using an image from In Style Stamps, our sponsor for this week. I've never used an anime image, but I really like this one! She's really cute and I love her eyes.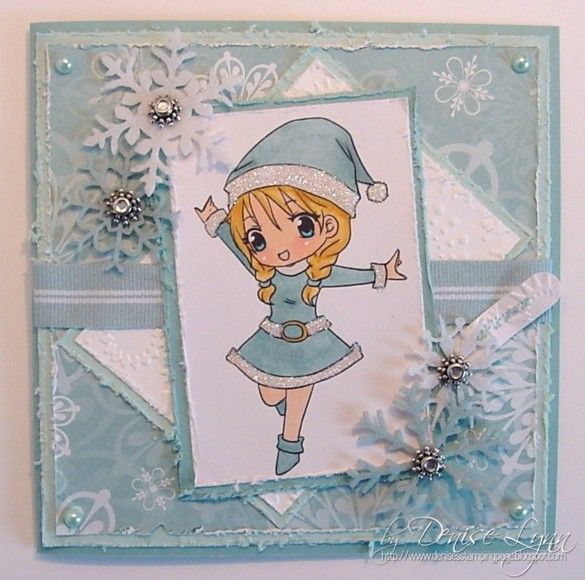 I've gone for a monochromatic look using some baja breeze and soft sky papers with this retired snowflake print SU! designer paper. I've distressed the edges and embossed the white layer again with the snowflake folder and CB. I've embellished this card with felt snowflakes, spacer beads, rhinestone gems, ribbon, blue pearls, and glitter. The sentiment is "Let it Snow" from
Whimsy Stamps
.
This card also fits the challenges at:
A Spoon Full of Sugar
: monochrome
Cupcake Craft
: Christmas carols on your card - Let it Snow
Simon Says Stamp
: let it snow
Thanks for coming by for a visit today. Be sure to check out the fabulous samples from my fellow design team members at
Just Magnolia
and
Stamp Something
. I hope you have a wonderful weekend! I'll be back tomorrow for my day of inspiration and the Advent treat for
Whimsy Stamps
, hope you'll join me! Happy stamping! :)