Happy Tuesday to you!
Hope your day is off to a great start. I plan to be busy today! We have a play date with friends and then I have some work to get to, plus all the laundry that I didn't feel like doing yesterday! Ahhh, chores! Hope you have a great day!
I have a quick post of a card to share with you before I get going on the day. I've gone with another spring time theme as the weather here has put me in the mood! And I've used
Summer Day Emma
, from Whimsy Stamps, for the image.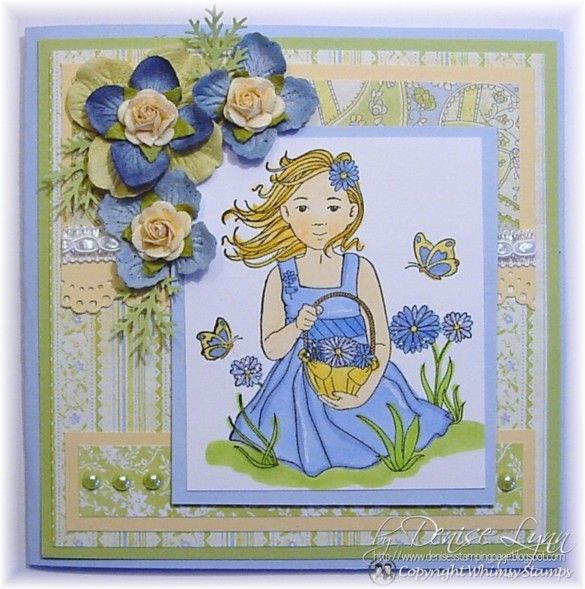 I love these BG Lily Kate papers, they're just perfect for a soft and springy card. I combined those with blue, yellow and green card stock. I used the sketch from
Sketch and Stash
and my neglected stash was the lace ribbon accent. I colored the image with Copics and then embellished with flowers and pearls.
This card fits the challenges at:
Cupcake Craft
: Flower Power
My Time to Craft
: Kids Kards - since Emma is my kid, I think this qualifies! LOL!
A Spoon Full of Sugar
: Recycle - I've used a bunch of scrap papers for this card
I am also going to send this card to a special young girl named
Bethany
, from the
Make A Child Smile
organization. This is part of a Whimsy Stamps challenge going on right now, hosted by our GDT Nikki. For details, please click
HERE
. We hope you'll help "make a child smile" too!
Thanks for coming by today, I hope you have a wonderful Tuesday and get a chance to get outside in the sunshine!
Happy Stamping,