Hello All,
Hope you're having a good week so far. We got a LOT of rain yesterday so it was a nice day to stay inside and stamp! Which I was actually able to do! I've been so busy lately that I've been neglecting my crafty goodies! It was nice to get inky, even if it was only for a short time.
Yesterday, we posted a new challenge on our
Whimsy SNR group
to use hearts and a Whimsy image on your creation. So I started with that challenge and then added a couple more.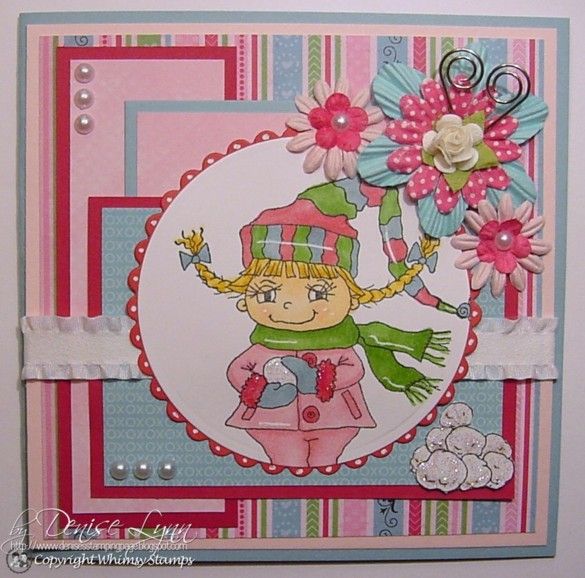 This is my card using the new stamp
Ready, Set, Duck!
by Crissy Armstrong now available at
Whimsy Stamps
. I think she's super cute and makes a perfect "be my valentine card" because well, if you say no, she might throw that snowball at you! LOL!
I've used some DCWV papers with a valentine theme. There are hearts and lots of pink on these papers. I also used some Pink Pirouette, Baja Breeze, and Rose Red card stock from SU!. This sketch is from
Sketch and Stash
and my neglected stash would be this fab ruffly ribbon. I've embellished with sticky pearls, flowers, and a metal heart. I also added white gel pen faux stitching and some stickles to the snowballs.
This card also fits the challenges at:
One Stop Craft
: Love and Kisses
Pile It On!
: Warm Wishes
Thanks for coming on by today. There is still time to enter the
Whimsy Snowball Fight blog hop
candy! Lots of great eye candy to see along the way too! Be sure to join in our Whimsy hearts challenge too! Happy stamping!