This blog hop is now CLOSED! Thanks to everyone who participated!
Hello and Welcome to the Whimsy Stamps new release blog hop "Come Take a Ride with Us,"
If you are joining me from
Bev's blog
, then you are in the right place. If you are just stumbling on our hop now, you will want to go back to the beginning of the hop over at
Crissy's blog
. Each of our design team members have created beautiful and enchanting eye candy to share with you today and there is also a blog candy prize chance over on the Whimsy Stamps page. We hope you enjoy "Taking this Ride with Us" today!
We are so very excited to finally be able to share these beautiful Carousel Horses stamp sets, which were designed by Crissy Armstrong, for the
Crissy Armstrong Collection
at
Whimsy Stamps
! Each horse was lovingly created with beautiful details to represent a special occasion. Today we are releasing two of these beauties,
Untamed Love
and
Cool Ride
, but we have plans to add to this collection in the coming months!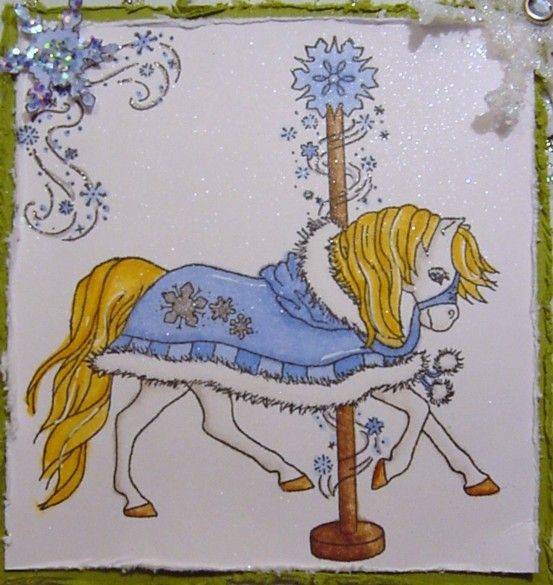 Each of the Carousel Horse Stamps is sold as a stamp set with one main image horse and 2 coordinating accessories. These accessories are great for creating backgrounds or for adding an extra detail here and there on your creations. This is Cool Ride, who I think perfectly represents Winter with all those snowy details and that pretty coat with the fluffy edging.
I've created an easel card for my project so that I could squeeze in as many details as I could and to use all the stamps in this set. These easel style cards are great for showcasing your creations too, they really do stand up well. The only draw back for me is that I can't get a good photograph of them to save my life! LOL!
I've gone with a blue and green color combination and used some glittery My Minds Eye papers. All of the edges have been distressed with scissors to create some texture and I've added glimmer mist to the whole card to give it some more shimmer. The base of the card uses both of the new accessories and a sentiment from the set Winter Words, also available at
Whimsy Stamps
.
Here is the close up of the front of the card.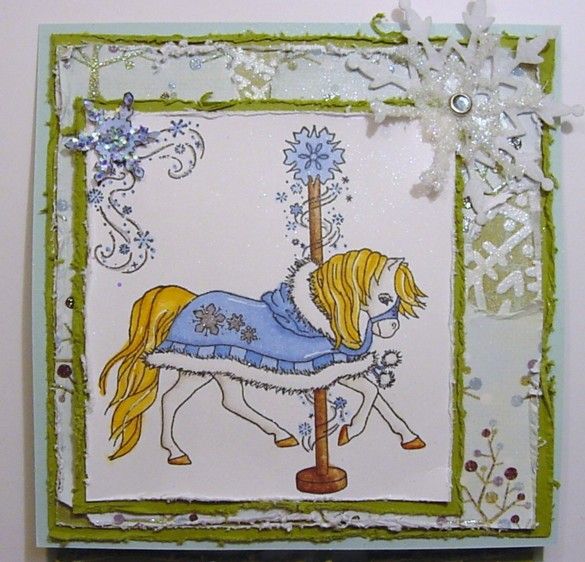 As you can see the papers have been distressed and torn to add some texture. I also embellished with lots of glitter and a felt snowflake and acetate and glitter snowflake held on with a rhinestone brad. The image was colored with Copics and highlighted with a white gel pen and silver Spica glitter pen.
Thanks for stopping by my blog today, the next stop on the hop is at
Sue's blog
. Be sure to also visit the
Whimsy Stamps page
at the end of the hop to enter for your chance to win our blog candy prize which includes both of these new stamp sets and some other goodies. We will also have some smaller prize chances for our
Whimsy group members at SNR
, so check in there too!
Have fun riding along the hop today! Happy stamping! :)
This card also fits the challenges at:
Copic Colour Challenge
: blues and green
Crafty Cardmakers
: favorites of 2009 - mine would be distressing
Fussy and Fancy Friday Challenges
: New - the stamp and some of the copics
No Time to Stamp
: New - stamp and copic colors
Stamping for the Weekend
: New Beginnings
Crafty Creations
: Make the New Year Glitter
Daring Cardmakers
: New Beginnings - the new release fits I think!